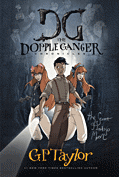 List Price:
19.99
ISBN:
978-1-4143-1948-3
Trim Size:
6 x 9
Binding:
Hardcover
Release:
September 2009
From best-selling author G.P. Taylor comes the highly anticipated second installment of The Dopple Ganger Chronicles, a series that combines art and traditional text to help "reluctant readers" discover the wonder of books.
Erik Morissey Ganger, famed explorer and detective (well, in his dreams), and his mischief-making sidekicks, twins Sadie and Saskia Dopple, didn't go looking for a secret tunnel beneath the school. They never intended to make the acquaintance of a shifty private eye with a nose for trouble. It wasn't part of the plan to come face to face with an old enemy, one with an agenda of his own that could destroy them all. And unraveling the "secret of indigo moon" was the farthest thing from their minds.
At Isambard Dunstan's School for Wayward Children, these things just seem to happen.
In The Secret of Indigo Moon, confirmed troublemakers Erik, Sadie, and Saskia plunge headlong into a new and perilous mystery, one that challenges everything they thought they knew about their lives, themselves, and whom it's safe to trust.
I read a few chapters of this book and my fav. section was the comics that take part as a chapter in the book, I passed it on to my 11 yr old daughter to read and she liked how the comics made reading the book fun! She is a slow reader but I'm happy she stuck to it. Now she wants to read the other books by G.P.Taylor, which is a great thing as she rarely finds a book that she likes that does not evolve around horses!! This was a fun mystery and she found it not scary, perfect for her!
This book was provided to me by Tyndale for Review.