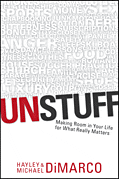 List Price:
14.99
ISBN:
978-1-4143-3478-3
Trim Size:
5 1/2 x 8 1/4
Binding:
Softcover
Release:
January 2011
God . . . and stuff. Everything in the universe falls into one of these two categories. Which is more important to you? (It's not a trick question.) In Unstuff: Making Room in Your Life for What Really Matters, popular authors Hayley and Michael DiMarco take a close look at what's in your wallet, your heart, your house, and your mind to reveal the pleasures and perils of stuff—and the joy, peace, and freedom that comes from learning to live with less.
In this real-life look at "how it's done," the DiMarcos take an uncomfortably close look at the cost of their love affair with stuff. They start by Unstuffing their house—getting rid of anything they don't need by giving away, selling, or throwing out items that only add to their love for more. Then, kicking it up a notch, this family of three travels across the country with nothing more than they can fit in a motor home . . . and discovers that the really important stuff goes with them.
I read this book during a bad time, the Christmas Holiday when we receive alot! I can see where the Authors are coming from and talking about but the idea of selling everything including your house and moving into a small motor home is an idea that I cannot grasp right now. It would not work for my family. I prefer the habit we have of going thru our things every other month or so and donating it to our Community Action Office.
I received this book from Tyndale for Review, opinions are my own.