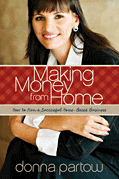 List Price:
13.99
ISBN:
978-1-58997-608-5
Trim Size:
5 1/2 x 8 1/4
Binding:
Softcover
Release:
April 2010
In tough economic times, conventional jobs can be hard to find. A home-based business could be the answer for many people. Making Money from Home compares the cost of working outside the home with the benefits of working from home. It provides readers with the tools they need to run a successful home business, such as time management advice, details on the foundations of a solid business, tips on marketing goods and services, legal issues to consider, and information on how to use the Internet effectively and how to create a business plan.
This book was an easy fast pace read, easy to understand thoughtful questions at end of each chapter. I learned a bit more about making your website work and bring your clients to you. Some of the chapters I browsed thru since I knew that information already from doing research for my Husband's Ministry website
http://www.altarcallministries.com/
and his facebook page
http://www.facebook.com/pages/Lancaster-OH/AltarCall-Telecom-Ministries/214704009428
. If your just starting a Website and working from home (and many people are in this economy) than take the time to read this book, you will pick up a couple of great tips to help you!
Tyndale House Publishers has provided me with a complimentary copy of this book or ARC.