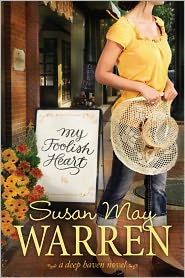 Pub. Date: April 2011
Publisher: Tyndale House Publishers
Format: Paperback , 384pp
Sales Rank: 104,888
Unknown to her tiny town of Deep Haven, Isadora Presley spends her nights as Miss Foolish Heart, the star host of a syndicated talk radio show. Millions tune in to hear her advice on dating and falling in love, unaware that she's never really done either. Issy's ratings soar when it seems she's falling in love on-air with a caller. A caller she doesn't realize lives right next door.
Caleb Knight served a tour of duty in Iraq and paid a steep price. The last thing he wants is pity, so he hides his disability and moves to Deep Haven to land his dream job as the high school football coach. When his beautiful neighbor catches his eye, in a moment of desperation he seeks advice from My Foolish Heart, the show that airs before his favorite sports broadcast.
Before he knows it, Caleb finds himself drawn to the host—and more confused than ever. Is his perfect love the woman on the radio . . . or the one next door?

I have finished this book while unpacking the last of the boxes here at our new house and this was such a moving story to me as I have imperfections just like Issy. The storyline was easy to follow and I found myself rooting for Issy and Caleb to work thru their issues and fall in love...I love a happy ending!

There are a couple more "Deep Haven" novels that I will be searching out to read!

Tyndale was kind enough to send me this book to review, opinions are my own.