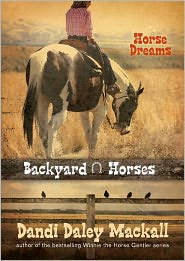 Fourth-grader Ellie James has a great imagination. She spends a lot of time daydreaming of owning a black stallion show horse and winning trophies in the horse show. But when the answer to all her dreams and prayers gallops into her life, will Ellie be able to recognize it? Join Ellie and her quirky family in their exciting, horse-loving adventures.
Pub. Date: August 2011
Publisher: Tyndale House Publishers
Format: Paperback , 160pp
Sales Rank: 256,807
Age Range: 6 to 10
~~My Daughter Crystal has read this book and since she LOVES Horses this was right up her ally. She stayed up way to late to finish the book and is looking forward to the series continuing. A must have for any young Horse lover!~~
This book was provided by "Tyndale" for my review, all opinions are my own.